Chicago Blackhawks Struggle During Month of November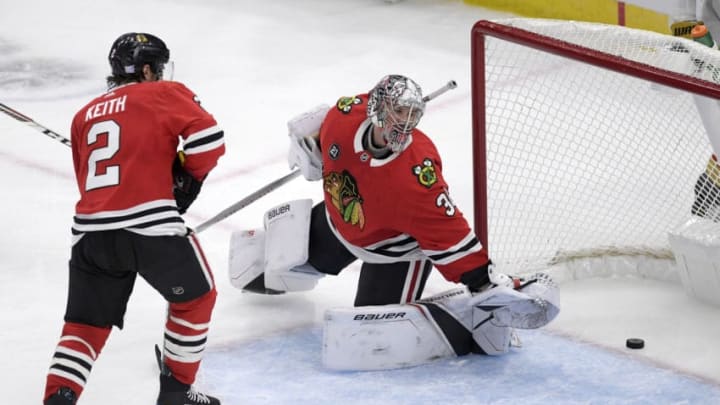 CHICAGO, IL - NOVEMBER 27: Chicago Blackhawks goaltender Cam Ward (30) is unable to stop a deflected puck from going into the net for a goal in third period action during a NHL game between the Chicago Blackhawks and the Vegas Golden Knights on November 27, 2018 at the United Center, in Chicago, Illinois. (Photo by Robin Alam/Icon Sportswire via Getty Images) /
November was a whirlwind of emotions and events, positive and negative, for the Chicago Blackhawks. As the month comes to a close, let's recap and analyze everything that occurred over these last 30 days.
WINNIPEG, MB – NOVEMBER 29: Chicago Blackhawks goalie Corey Crawford (50) stops Winnipeg Jets forward Mark Scheifele (55) during the regular season game between the Winnipeg Jets and the Chicago Blackhawks on November 29, 2018, at the Bell MTS Place in Winnipeg MB. (Photo by Terrence Lee/Icon Sportswire via Getty Images) /
The Blackhawks are not good. At all.
This is a conclusion fans can draw pretty easily based on watching games with their own two eyes without having to look at any statistics. One of them happens to be how bad the defense of the Chicago Blackhawks is. They pinch too hard in their own zone and make errant passes across center ice. The goalies have been left out to dry way too many times.
But if you do want to look at the stats and come to this conclusion, just take a look at some simple categories. The Blackhawks have allowed 96 goals through 26 games, the third-most in the entire league. Only Vancouver (100) and Ottawa (107) have let in more goals. The Blackhawks have also allowed the fifth-most shots on goal with 871. The team is only making it through 74.3 percent of their penalty kills unscathed.
More from Blackhawk Up
It's not helping that the offense is atrocious, too. Stephen Yatsushiro discussed the team's issues up front, including their terrible numbers in a few fancy stats categories. The Blackhawks' expected Goals-for percentage is just 45.7 in all situations, according to Corsica, which is just unacceptable for a team with a top-six consisting of Patrick Kane, Jonathan Toews, and Brandon Saad.
Additionally, their power play is now dead last in the league, converting on just 12 percent of their man-advantage opportunities. They have just nine power-play goals, with their expected Goals-for per 60 minutes at just 4.38 in these situations. The Blackhawks are last in the league in both of those categories. The units have been switched around so many times to try and get something going, but nothing has worked.
The goaltending, typically a beacon of hope for the Blackhawks, has greatly struggled as well. Some of these issues can relay back to the poor defense, of course. Let's not put all the blame on Corey Crawford and Cam Ward. However, a .891 team save percentage won't help you win games. And we saw in the 8-3 loss to the Vegas Golden Knights that despite how good of a goalie he typically is, Crawford can be human and make mistakes. His defense needs to bail him out as much as he bails them out.
With all of that being said, they've faced some terrible luck so far. Despite their expected Goals-for percentages being terrible, the Blackhawks' expected Goals-for this season at even-strength (51.37) is 11th in the NHL. They have a Corsi-for percentage above 50 at 5-on-5, which means they're not getting as severely outplayed as fans may think. It looks as if the 'Hawks haven't been able to convert when given the opportunities to do so. And with a combination of that and poor defense, that doesn't add up to good, consistent play.
Anyone having flashbacks to last season, yet?