The Chicago Blackhawks are at the point of no return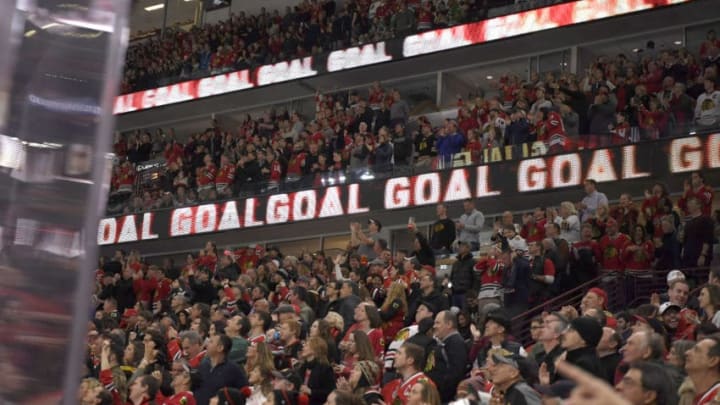 CHICAGO, IL - FEBRUARY 17: Chicago Blackhawks fans celebrate a Chicago Blackhawks goal in the third period of play during a game between the Chicago Blackhawks and the Washington Capitals on February 17, 2018, at the United Center in Chicago, Illinois. (Photo by Robin Alam/Icon Sportswire via Getty Images) /
The Chicago Blackhawks suffered through a recent eight-game losing streak.  They have plunged to the bottom of the Central Division and 2nd from last in the NHL.  They have reached the point of no return.
We've examined the Chicago Blackhawks' dramatic fall from grace this season in recent articles.  Our Sam Boland discussed the possible options for the 'Hawks in his solid article.  Sam presents two valid options, Win Now or Play the Long Game.  I present Option Three: Accept Failure and Immediately Build for the Future.  A very smart radio host likes to say, "We work with the facts and live with the truth." So let's work with the facts.
It's a hard knock life.
More from Blackhawk Up
The NHL Central Division is a tough place to live and play.  The Chicago Blackhawks just don't have the roster to compete in their division this season.  In a long series of unfortunate events, general manager Stan Bowman played not to lose and lost the structure of a sustained championship roster.  He did successfully manage his way through the salary cap maze to win three Stanley Cup championships.
But along the way, he forgot that his prized core was not composed of immortals.  I've detailed in my recent article on how the age gap between the core and young supporting players has widened over the years.  It was a wild gamble on Bowman's part to depend on all his young support players to blossom into stars this season.  Obviously, he didn't win that bet.  So now he's backed the team into a corner it can't get out of.
The solution to today's situation is not an easy one, but a necessary one.  Since the 'Hawks aren't going to be a playoff team this year and the core players will continue to slip down the age slide in the coming years, they need to start launching some star players to begin the dreaded rebuild.  The young talent they have won't mature quickly enough to overcome the sharp decline of the core players.  This shouldn't have come this soon, but here we are.