How the Coronavirus could hurt the Blackhawks home streak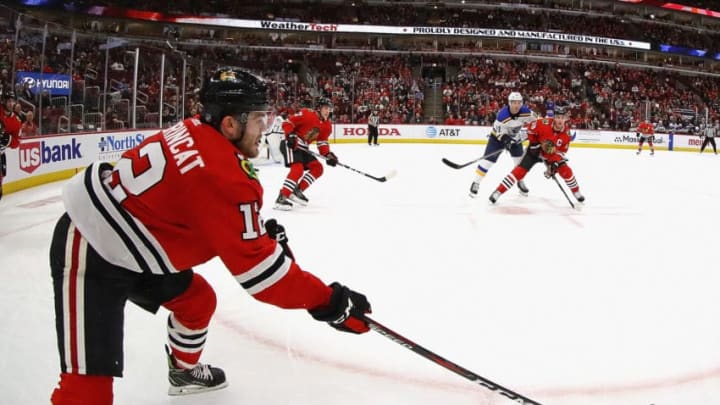 Blackhawks Alex DeBrincat (Photo by Jonathan Daniel/Getty Images) /
Teams in the NHL are starting to have restricted access to games, here's what would happen if the Blackhawks joined those teams.
If the Blackhawks start restricting games to family members, staff, and the media, there will be a big switch for them. It'll be the first time since the 2008-09 season that they don't sell out a home game.
During the 2010s, the Blackhawks owned the United Center. If things don't get better with the Coronavirus, the team could choose to take the safe route and restrict access to games. Of course, the team could save face and say they've sold out every home game since 2008-09 when fans weren't restricted from the game.
Still, they'd have their 11-year streak snapped.
Their 520-plus streak of selling out the United Center includes playoff games. Chicago has held over 60 playoff games at home since 2009. Including playoffs, they have the second-longest streak, behind the Penguins.
The city is still very wrapped up into this team. They've invested a lot of time into the Blackhawks, even though they've struggled as of late. I could see some season ticket holders selling the remainder of their games to 'be safe'.
It's not like the Blackhawks will be pushing for the playoffs. Some fans might pass up on games and wait for next season. That is one of the reasons why their last home game was filled with Blues fans. They technically sold out, but it was close to a 50/50 crowd.
The big names for the Blackhawks keep people in their seats. They are going to be a playoff hopeful next season because of how close they were multiple times this year. By October 2020, the Coronavirus should have already died down.
Let's just hope the Blackhawks don't start restricting access to games. This streak is pretty cool and shows the dedication fans have for this team. Still, we hope everyone stays safe and healthy.
For more information about COVID-19, visit the CDC's website or the website for your state's Department of Health.