Blackhawks Update: Hockey is right around the corner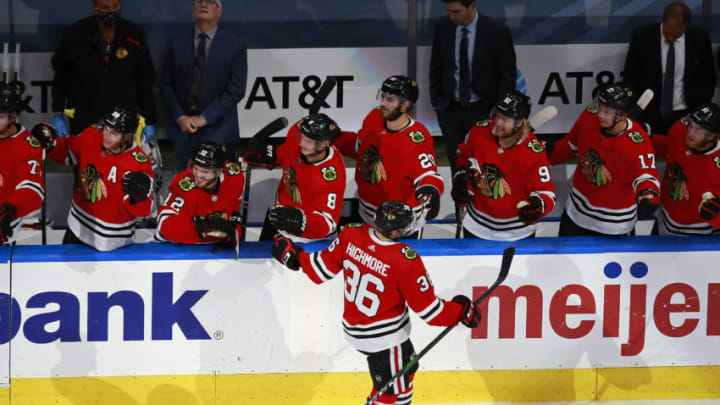 Matthew Highmore #36, Chicago Blackhawks (Photo by Jeff Vinnick/Getty Images) /
The Chicago Blackhawks 2021 season looks like it will become a reality. After all this time of not knowing things are finally heating up.
The NHL is closer to their 2021 season, and for the Chicago Blackhawks, things are going to look different. I have been going through Twitter and looking at different facts that have been confirmed for next season, and I want to put some of the things together in one spot for the 2021 season.
The 2021 season if confirmed sometime within the next few days is going to be shorter than usual. It is going to feature larger rosters and will include different divisions. We have already talked about the new division here in the past, but since then it looks like Dallas will be with Chicago and Minnesota will be out of the division.
56 Games:
It is only a tentative agreement as of right now but it looks like the NHL will have a 56 game season. Honestly, I was kind of expecting the 48 game season the NHL had in 2013 so an extra eight games aren't bad by any means.
A 56 game season raises the question of how many points can players like Patrick Kane put up, and I am excited to see what the team can do with that time. While Chicago won't be a playoff team, they still could win 20 or so games during a 56 game season.
Key Dates:
There are a lot of key dates to mark on your calendar if everything goes as planned. The trade deadline on April 12th could give Chicago an opportunity to trade away a few players in order to pick up some draft picks or prospects. Plus the expansion draft will add the 32 hockey team to the NHL.
Honestly, with nothing being written in stone yet, it is interesting to think that we could finally have hockey on January 13th.
Preseason:
While it looks like there will be no preseason in 2021, there will be a training camp that will feature "36 skaters and an unlimited number of goalies" according to Elliotte Friedman on Twitter. This will give the Blackhawks a significant amount of time to decide on a starting goalie for 2021.
With the season projected to start on January 13th, the preseason won't feature any games, which means the Blackhawks' first time playing another team might be against the Tampa Bay Lightning during Tampa's home opener and banner raising game.
Taxi Squad:
Besides the 23 man roster in 2021 with a salary cap of 81.5 million, the NHL will also create a taxi squad group of players for the season. This group will give Chicago a unique opportunity to keep certain prospects around the team and allow for more opportunities with the NHL team.
Once everything is finalized hopefully within the next few days I think it will be interesting to see who the Blackhawks taxi squad is made up of. Chicago has a lot of young players that could take the next step and play in the NHL this coming season, so seeing who makes up the taxi squad will be fun.
Hockey is right around the corner, so get ready Blackhawks fans!