San Jose Sharks Affirming Stanley Cup Playoffs Parity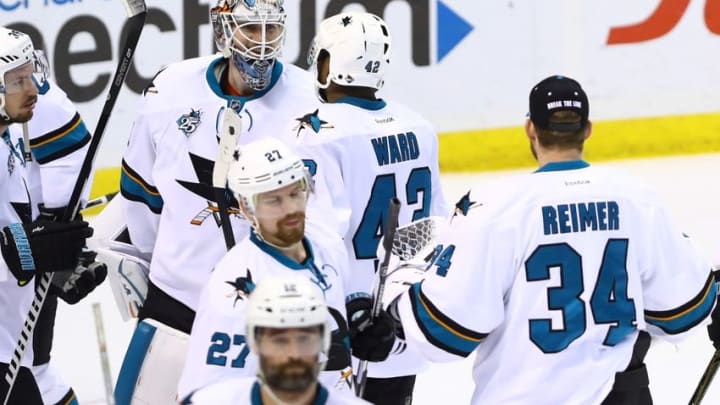 May 23, 2016; St. Louis, MO, USA; San Jose Sharks goalie Martin Jones (31) is congratulated by teammates after defeating the St. Louis Blues in game five of the Western Conference Final of the 2016 Stanley Cup Playoffs at Scottrade Center. The Sharks won the game 6-3. Mandatory Credit: Billy Hurst-USA TODAY Sports /
2016 Stanley Cup Playoffs Have Been Wide Open As Any
We're a game from talking about the San Jose Sharks as a Stanley Cup Final team, and for the first time at that. The 2015-16 San Jose Sharks. Not the 2009-10 Sharks. Not the 2010-11 Sharks. Nope, we're talking about the this group, one that was probably a move or two away from a total reconstruction — or destruction — last season.
But it didn't happen, and now we're getting a fantastic example of the parity-filled display that is the Stanley Cup Playoffs.
San Jose looked to be in shambles last season, with Joe Thornton losing his captaincy and publicly arguing with his general manager about it, the team firing coach Todd McLellan and the front office getting stuck on the in-between when deciding whether it not it wanted to commit to a youth movement.
The team didn't make the playoffs last season, though it wasn't that far from a spot — finishing eight points from the third spot in a weak Pacific Division and 10 points from a wild-card position. But when your team only beats Edmonton and Arizona in the conference standings, something has gone horribly wrong.
More from Editorials
That, coupled with the team still seemingly lost regarding how it would address its future, left the Sharks with low expectations entering 2015-16. They added to those expectations by firing McLellan in favor of former New Jersey Devils coach Peter DeBoer. They then let Antti Niemi go and decided to let a relatively-untested Martin Jones have the starting goaltender job.
Does this entire concoction scream "Stanley Cup Final team" to you? Well, it isn't supposed to, because it's hardly ever mattered in recent years which teams look like Final locks and which ones look like early-exit options.
Let's go back to the previous 10 postseasons and see which teams qualified for the Stanley Cup Final (all seedings adjusted to show teams' finishes in conference regular-season standings):
2015: No. 4 Chicago Blackhawks def. No. 3 Tampa Bay Lightning
2014: No. 6 Los Angeles Kings def. No. 5 New York Rangers
2013: No. 1 Chicago Blackhawks def. No. 4 Boston Bruins
2012: No. 8 Los Angeles Kings def. No. 6 New Jersey Devils
2011: No. 3 Boston Bruins def. No. 1 Vancouver Canucks
2010: No. 2 Chicago Blackhawks def. No. 7 Philadelphia Flyers
2009: No. 4 Pittsburgh Penguins def. No. 2 Detroit Red Wings
2008: No. 1 Detroit Red Wings def. No. 2 Pittsburgh Penguins
2007: No. 2 Anaheim Ducks def. No. 4 Ottawa Senators
2006: No. 2 Carolina Hurricanes def. No. 8 Edmonton Oilers
Not a whole lot of 1s or 2s in there, especially not since 2010. The last two campaigns saw the Blackhawks and Kings almost sit back in the regular season and then attack in the postseason. One could argue the Kings did that in both of their Cup wins.
And there's just nothing to suggest anymore that this is a poor strategy. As long as you make the playoffs, you have as good a shot as anyone. It didn't seem like the Washington Capitals were going to get beat by anyone heading into the postseason. Then Philadelphia got them for a couple games and Pittsburgh kept up a hot run to blow the President's Trophy winner out of the playoffs. Now the Penguins are on the ropes, too. Hockey.
But as much as past seasons may have shown, to a decent extent, how obvious parity is in the Stanley Cup Playoffs, this one probably takes the cake.
The President's Trophy- and Metropolitan Division-winning Capitals? Gone before the conference finals. The Central Division-winning and second-overall Dallas Stars? Gone before the conference finals. The other two division winners in the Florida Panthers and Anaheim Ducks? Out in the first round. The two teams to win the last four Stanley Cup Final series in the Blackhawks and Kings? Also out in the first round.
And what has it left us?
— The Pittsburgh Penguins, who have been riding a crazy-hot wave from the start of 2016 to the present.
— The St. Louis Blues, who have a perennial playoff choking history rivaling those of San Jose and Washington.
— The Tampa Bay Lightning, who made last year's Final and have tons of young talent, but who also have missed Steven Stamkos, Ben Bishop, Anton Stralman, Tyler Johnson and Ryan Callahan for some or all of the postseason.
And … the San Jose Sharks, who looked dead in the water (not apologizing for that one) at this time a year ago. They have four of the top five points earners in the postseason, including the top three with Joe Pavelski (21), Logan Couture (21) and Brent Burns (19). And they have a goaltender who had no legitimate postseason experience before this season, and who is now leading the playoffs in wins (11) and shutouts (3) to go with a .918 save percentage and 2.13 goals-against average.
Next: Chicago Blackhawks' Summer Fun Activities
One could argue this entire final four strongly shows the parity that exists in the NHL's playoffs, but the Sharks rise above it all. This team is one win from the Stanley Cup Final less than two years after making a move — removing the captaincy from Thornton — that just about tore apart the team at its seams, and about one year removed from firing its head coach.
The Stanley Cup Playoffs are something else, aren't they?